LPA and Dynamic Eco Solutions win Visy Environmental Sustainability Award
Live Performance Australia and Dynamic EcoSolutions won the Visy Environmental Sustainability Award at the Queensland 2013 Creative Partnerships Awards on Friday 30 August 2013.
The Award recognises the partnership between LPA and Lisa Erhart in conducting baseline assessments, developing resources and presenting training and seminars during the 18 month Queensland pilot of the Greener Live Performances initiative. Special acknowledgement is due to the Queensland members listed below who were part of the trial group, and contributed to the success of the project:
ArTour
Australian Festival of Chamber Music
The Arts Centre Gold Coast
Brisbane Entertainment Centre (AEG Ogden)
Dance North
Gympie Muster
JUTE Theatre Company
LaBoite Theatre
Mackay Convention & Exhibition Centre (MECC)
Opera Queensland
Queensland Conservatorium
Queensland Performing Arts Centre (QPAC)
Queensland Theatre Company
The Queensland Ballet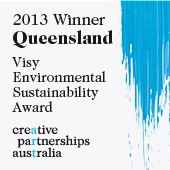 The work we commenced in the Queensland project has now expanded nationally, thanks to an Energy Efficiency Information Grant from the Australian Government. Members are reminded that you can sign up to stay in touch with the Greener Live Performances through Energy Efficiency Project by emailing greener@liveperformance.com.au
Lisa Erhart and LPA look forward to continuing to support the industry on its journey to become more sustainable and energy efficient.